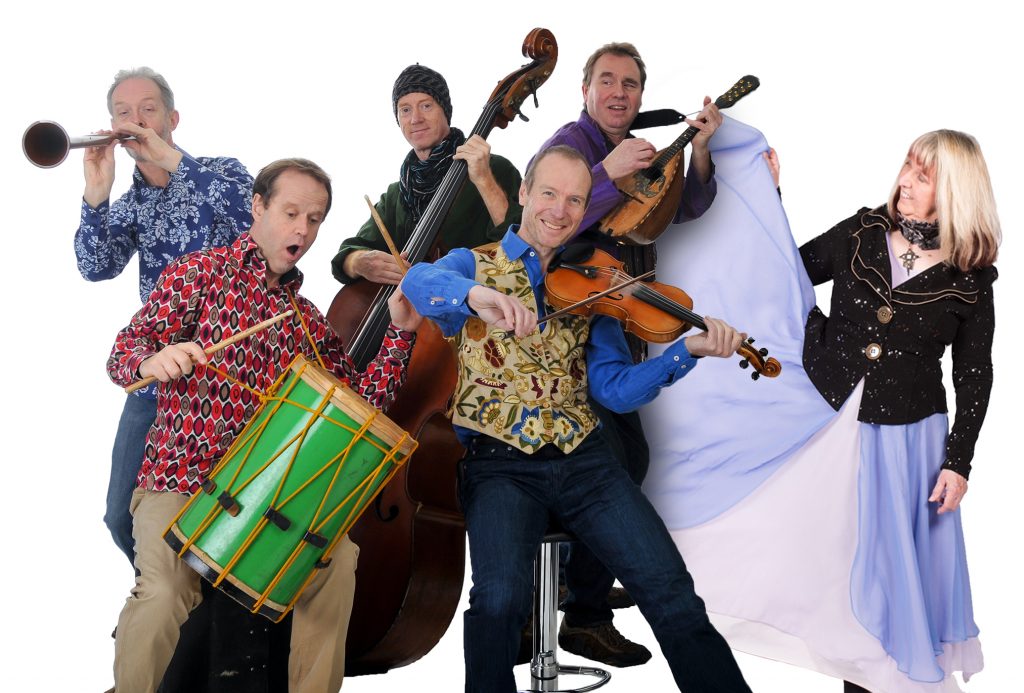 The word Carnival can mean many things, for this band it is the universal spirit of celebration which overthrows convention. And what better way to show case this than with this celebratory tour "Carols & Capers"!
The Carnival Band are 5 Musical Explorers, 5 voices, 25 instruments, 5 dozen styles of music and 5 hundred fresh ideas for music making, combining music from across the centuries with sounds from around the world in an irreverently joyous mix! If life is determined by a series of happy accidents, then somebody upstairs was beaming long and hard the day the Carnival Band happened to come across Maddy Prior, one of the most enduring, influential and respected artists in British music. Thrown together in 1984 on a 'let's see what we come up with' basis for a Yuletide Radio 2 broadcast. What began as a one-off session in a village hall in Cumbria has endured for over twenty years and has become something of a tradition in its own right with regular tours and five albums released.
Following the hugely popular 2018 Christmas tour with the Carnival band and a year of touring with Steeleye Span for their 50th Anniversary, Maddy is now once again joining up with the Carnival Band for this coming Festive Season for their unique celebratory show "Carols & Capers". And like their previous seasonal excursions, this one sees them put their unique stamp on a range of familiar (and not-so-familiar) festive material, whilst also exploring some new and exotic directions. Together they will mix renaissance, modern and ethnic instruments with a refreshing cavalier attitude and plenty of humour putting their inimitable stamps on a range of familiar and not-so-familiar festive fare. This will guarantee to be a Christmas Party to remember.
"I love working with the chaps," Maddy muses, "it's just so different and they're so off the wall. Coming from a folk background I can relate to a lot of their dances and early music, but anything less like serious academic concerts when we tour you can't imagine. When we go out at Christmas, it's all streamers, balloons and lunacy."
"Maddy's voice is clear as a bell. It actually sounds as if there's a celebration going on" THE GUARDIAN
"A truly superb pack of musicians" DIRTY LINEN (USA)
"If you haven't seen them before you're in for a treat" OXFORD MAIL
Maddy Prior & The Carnival Band 2021 Tour Dates
Tue 30th November
The Atkinson
Southport
01704 533333
Buy Tickets
Wed 1st December
Lowther Pavilion
Lytham St Annes
01253 794221
Buy Tickets
Sat 4th December
The Kings Hall & Winter Garden
Ilkley
01274 432000
Buy Tickets
Mon 6th December
The Apex
Bury St Edmunds
01284 758000
Buy Tickets
Tue 7th December
St Georges
Bristol
08454 024001
Buy Tickets
Wed 8th December
The Corn Exchange
Exeter
01392 665938
Buy Tickets
Fri 10th December
The Revelation
Ashford
01233 663201
Buy Tickets
Tue 14th December
Cadogan Hall
London
02077 304500
Buy Tickets
Wed 15th December
The Stables
Milton Keynes
01908 280800
Buy Tickets
Thurs 16th December
Roses Theatre
Tewkesbury
01684 295074
Buy Tickets
Sun 19th December
Lyric Theatre
Carmarthen
03452 263510
Buy Tickets
Mon 20th December
Cheese & Grain
Frome
01373 455420
Buy Tickets
Tue 21st December
St John The Evangelist
Oxford
01865 613507
Buy Tickets
Wed 22nd December
Town Hall
Birmingham
01212 896333
Buy Tickets