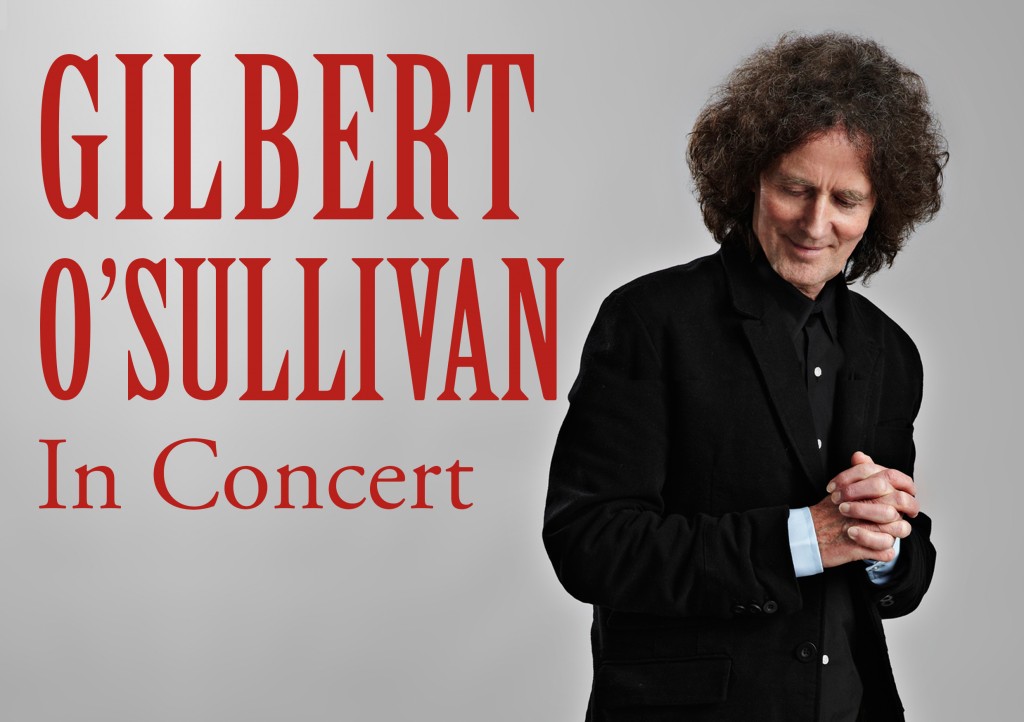 Gilbert O'Sullivan was born Raymond Edward O'Sullivan on 1st December 1946 in Waterford, Ireland but moved with his family to Swindon in England in 1953. His musical education began with the radio, and from 1962 first as a drummer and vocalist with his own band, and then other local bands. It was during this period he began writing songs. And on deciding he wanted to become a solo singer, started sending tapes to record companies in London, all of which were ignored.
On finishing his 4th year at Swindon Art College, Gilbert moved to London to try and further his musical career. While working as a temporary salesman at C&A's department store, a tape of his was heard by CBS Publishers April Music, and as a result with a promise of a recording contract, he signed a 5 year agreement. Two singles were released: "Disappear"/"You" 1967, and "What Can I Do"/"You" in 1968. Neither did well. It was also at this time Gilbert formulated his image. Wanting to be different he created a character, calling himself Gilbert (not O'Sullivan) based on a love of Charlie Chaplin and Buster Keaton, which consisted of, amongst other things, pudding-basin haircut, grey flannel trousers, hobnail boots, flat cap. While pleased to have for the first time a record released, he was however unhappy with the support he was getting from the record company so he parted company with CBS, and on the promise of better promotion he signed with the Major Minor label, then very popular due to its connection with pirate radio.
His best song up till then, written after the death of Bobby Kennedy, was in Gilbert's opinion, badly dealt with recording wise. So again disappointed but not disillusioned, he moved on. Only this time not to a record company, but in his view, a management figure. He subsequently sent a demo tape to Gordon Mills, who had successfully guided the careers of Tom Jones and Engelbert Humperdinck. Mills recognised something unique. Not in the image which he didn't particularly like, but in his songs, and signed him for management, and to his label MAM Records.
Gilbert made an irresistible impression with "Nothing Rhymed", his first Top 10 hit and an introduction to his witty lyrics and original approach as a singer/songwriter. Four years of major success followed, incorporating a dozen more hit singles, ten of which reached the UK Top 10, and four Top 5 albums: "Himself" (1971), "Back To Front" (1972), "I'm A Writer Not A Fighter" (1973) and "A Stranger In My Own Back Yard" (1974).
"Clair" and "Get Down" were number one hit singles in Britain, while "Back To Front" topped the UK LP chart in 1972. Across the Atlantic "Alone Again (Naturally)", sold two million copies during a six week stay at the top of the US singles chart in 1972. Around this time the singer changed his image in favour of a US collegiate-styled sweater embossed with the letter "G". By the mid 70's, singles like "Oooh Baby", "Why Oh Why Oh Why", "I Don't Love You But I think I Like You", including a Top 10 Christmas song, continued to chart.
Following an Ivor Novello award in 1971 for "No Matter How I try", in April 1973 Gilbert was named "Songwriter of the Year" at the 18th annual Ivor Novello Awards, as well as receiving a third Ivor Novello "Best Song of the Year" for his composition "Get Down".
In 1977, Gilbert's 5th album, the self-produced 'Southpaw' was released, containing the track 'Tomorrow Today', which in 1994 became a Number 1 record in Japan. However disagreements over future direction led to a break up with his manager, which effectively side-lined the former as a recording artist for five years. The resulting court case brought by him solely to obtain a promised interest in his songs would finally give him control of his own recordings and copyrights.
Gilbert returned to CBS in 1980 and released "Off Centre" (1980) and "Life & Rhymes" (1982) but maintained a low profile during much of the 1980s. "Off Centre" provided his 13th UK Top 20 single, "What's In A Kiss?", after which legal proceedings monopolised his time. Gilbert released no new material between 1982 and 1987 when he released `Frobisher Drive' in Germany (later released in the UK as `In The Key Of G'). The album included `So What', Gilbert's first chart single in almost a decade.
Now living in Jersey, Channel Islands, Gilbert has continued to record and tour consistently since, including appearances at Glastonbury and in 2008 a concert at The Albert Hall. Albums have included "Sounds Of The Loop" (1993), containing the now classic duet with Peggy Lee 'Can't Think Straight, "By Larry" (1994), "Every Song Has Its Play" (1995), "Singer Sowing Machine" (1997), "Irlish" (2001), "Piano Foreplay" (2003), "A Scruff At Heart" (2007) and "Gilbertville" (2010).
2011 saw Gilbert sign a deal with UK – based catalogue specialists Union Square Music who started a reissue programme including expanded physical and digital versions of 13 of his original albums and a TV advertised Best Of that reached number 12 in the UK charts in 2012. This was followed by an extensive UK tour promoting Gilbertville.
2013 began with Gilbert and his band touring Singapore, Japan and The Netherlands, with the latter part of the year dedicated to the writing of his new album, released in 2014.
It was also the year for major synching success; with 'Oooh Wakka Doo' being used as the theme tune for UK's National Lottery advert. With this came increased sales of his Best Of, re-released at supermarkets across the country.
Gilbert continued this run of success first with a sold out UK tour in 2016 as well as a 2017 tour for his 50th Anniversary in music and new Greatest Hits collection. The year also saw Gilbert perform at the legendary Cavern Club in Liverpool, home of The Beatles, and a slot at Radio 2's Proms In The Park.
In 2020 Gilbert will be back on the road to celebrate his five decades of music. You can enjoy every facet of his history in this new live show, Including classics such as Alone Again Naturally, Nothing Rhymed, Clair Matrimony and Get Down as well as songs from from the forthcoming album "Gilbert O Sullivan ".
| | | | | |
| --- | --- | --- | --- | --- |
| 5th April 2020 | Town Hall | Birmingham | 01217 804949 | Buy Tickets |